Parco dei Principi Grand Hotel & Spa, Rome
. Book your Rome luxury hotel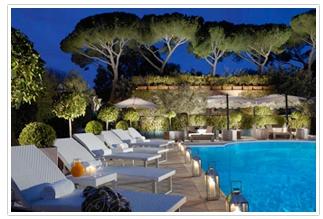 Parco dei Principi Grand Hotel & SPA welcomes its guests in a very privileged location in the exclusive and elegant Parioli district, stands in an exceptionally beautiful huge garden with a large pool in the heart of Rome, close to Villa Borghese.

The hotel also has a very large Conference Centre with 14 conference rooms accommodating up to 900 people, as well as a private garage.

Prince Spa, a modern concept and state-of-the-art spa, 2.000 sqm will be inaugurated in Winter 2009 with a 25-metre indoor heated pool as well as a hydromassage area, sauna, hammam area, ice zone, 12 treatment rooms (including 2 spa suites) and a well-equipped gym. Here we place at our guests' disposal all the best for cure of their body.

The renowned "Pauline Borghese" restaurant is an enchanting room overlooking an Italian -style garden – a precious corner of peace and quiet in the heart of Rome. The 5-star service – attentive, solicitous and impeccable – is combined with the delicious alchemy of products of the earth and sea that is typical of the Italian food.  Brunch is served every Sunday, while in summer, barbecues are served beside the pool at our restaurant.
Give us your Feedback
Parco dei Principi Grand Hotel & Spa, Via Frescobaldi, 5 - Rome
HotelinRoma.com
Copyright © 2009 - 2020 | P.IVA# 03458490277